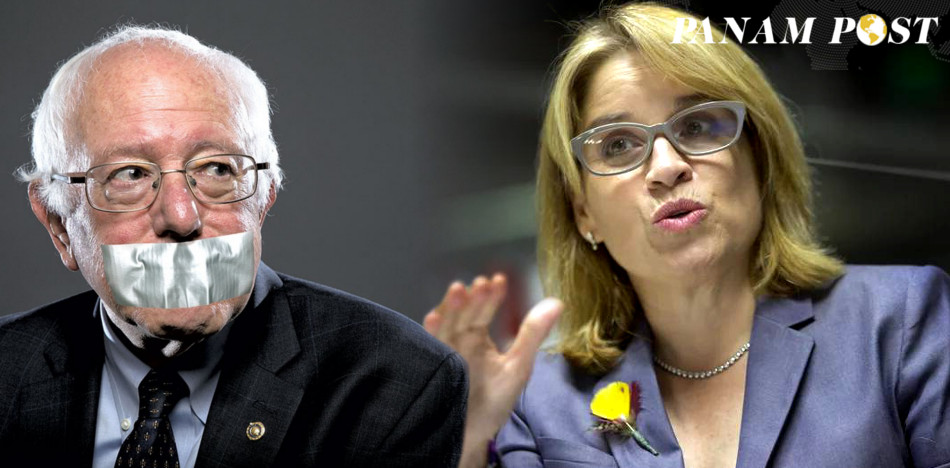 Although Bernie Sanders has been a socialist since Soviet times, his supporters silence him for fear of reprisals. (PanAm Post photo montage)
Declaring oneself a leftist can be attractive to American youth who have never lived under a socialist regime. However, among Latin American voters who have been exiled from leftist regimes, this has consequences. Carmen Yulin Cruz, the mayor of San Juan, Puerto Rico, who is the campaign co-chair of presidential candidate Bernie Sanders, refused to acknowledge that she and Sanders are socialists.
Both Cruz and Sanders have refused to condemn the dictatorships of Cuba and Venezuela. Instead, Cruz chose to compare the humanitarian crisis confronting Venezuela with poverty in Puerto Rico.
In fact, Sanders has openly applauded the Sandinistas in Nicaragua, the Cuban regime, and even the Soviet Union. Although he sells the utopia of "democratic socialism," pretending to distance himself from authoritarianism, Sanders defends totalitarian dictatorships. To this day, Sanders refuses to condemn the tyrannies that are still in power.
Sanders' campaign co-chair ignores persecuted Venezuelans while idealizing a terrorist
Cruz tried to compare the violence exercised in Venezuela by Nicolas Maduro's regime against the opposers of Chavismo to the situation in Puerto Rico. She alleged that until recently the U.S. had a political prisoner on the island. In reality, he was a radical left-wing terrorist.
The prisoner in question is Oscar Lopez Rivera. Former President Barack Obama released him. Lopez was under house arrest for his role in the Puerto Rican terrorist group Armed Forces of National Liberation (FALN), which between 1974 and 1983 assumed responsibility for more than 70 bombings in New York, Chicago, and Washington, D.C.
"The attacks caused millions in property damage, dozens of injuries and five deaths," according to Marlon Bishop and Maria Hinojosa, journalists for the Latin American version of NPR.
So the mayor compared a man who participated in violent activities to the crackdown against thousands of Venezuelans who demonstrate peacefully while the regime orders them to be violently repressed, murdering, and torturing the civilian population.
Talking about socialism generates confrontation with Latin Americans.
During an interview with Jorge Ramos on the program Al Punto, Cruz told the radio host that Sanders is not a socialist but a social democrat. Ramos was expelled from Venezuela on the ordered of Maduro for questioning the imprisonment of the politically persecuted and the suffering of the Venezuelans.
She also stated that she did not classify herself as a socialist or social democrat, but as a "progressive." She argues that "especially Latin Americans" understand that socialism is an authoritarian ideology. Nevertheless, she affirmed her conviction to accompany Sanders in his presidential campaign. Sander, throughout his life, has vindicated the totalitarianism of the left.
Related Posts
Mexico: AMLO Lays off Mexican Healthcare Workers to Hire Cuban Slave…
The Global Order Ignores Venezuela Because it Presents an Inconvenient…
Back in 1990, in the final days of the Soviet Union, Sanders declared, "I'm a socialist, and everyone knows it." The label still appears on his official website as a "socialist" senator.
[embedded content]
Democrats know that Trump gains sympathy among Latin Americans for his rejection of socialism
The case of Sanders is not an isolated one. It is a prominent tendency among Democrats in the U.S. Another democratic presidential candidate, the former mayor of New York Bill de Blasio encouraged airport workers to strike by citing Che Guevara's slogan, "Hasta la Victoria Siempre!" "Ever on to victory."
He was immediately repudiated, and the party had to apologize as Blasio uttered these words in Miami. The city is the capital of Cubans in exile. Thousands of citizens from the island who escaped the firing squads commanded by Guevara and the Castro brothers live in Miami.
The candidate was there alongside nine other presidential hopefuls, seeking to win the Latin American vote, even speaking in Spanish to win over the right-wing crowd.
When Trump assumed the U.S. presidency, he had the support of 31% of Latin Americans. While there are still skeptical sections, at the national level Trump has the support of 50% of Latin Americans as indicated through polls conducted by McLaughlin and Associates and surveys by NPR (National Public Radio) and PBS (Public Broadcasting System) with data from the analytics platform, Marista.
Although the high figure generated skepticism, Morning Consulting explains that the margin of error that could be in the previous indices does not exceed 5%. So the support is at least 45 %.
Thus, migrants communities from Nicaragua, Venezuela, and Cuba support Donald Trump when they see him impose sanctions on their repressive regimes. Meanwhile, key Democratic Party legislators such as Ocasio-Cortez, Bernie Sanders and Ilhan Omar defend socialism or refuse to condemn repression in Venezuela.
Strategically, Trump launched his campaign in the state of Florida, where he declared that he would "take care of Cuba and Venezuela." At the same time, the Trump administration is the one that has generated the most jobs for the Latin American community, not through state handouts, as proposed by the socialists, but through incentives to employers, such as tax reductions.
Moreover, the Latin American voter tends to be more conservative. Thus the Democratic Party's growing extremism on social issues, such as the legalization of abortion until birth and the medical abandonment of newborn survivors of abortion, has increasingly pushed Latin Americans to vote Republican.
Today more than ever Democratic Party politicians who present socialist proposals watch their words in front of Hispanic voters because Latin Americans came to the country to prosper, not to see the U.S. turned into a socialist regime like the one that pushed them into exile.
This post was originally posted on PanAm Post – View Original Article
Please follow and like us: