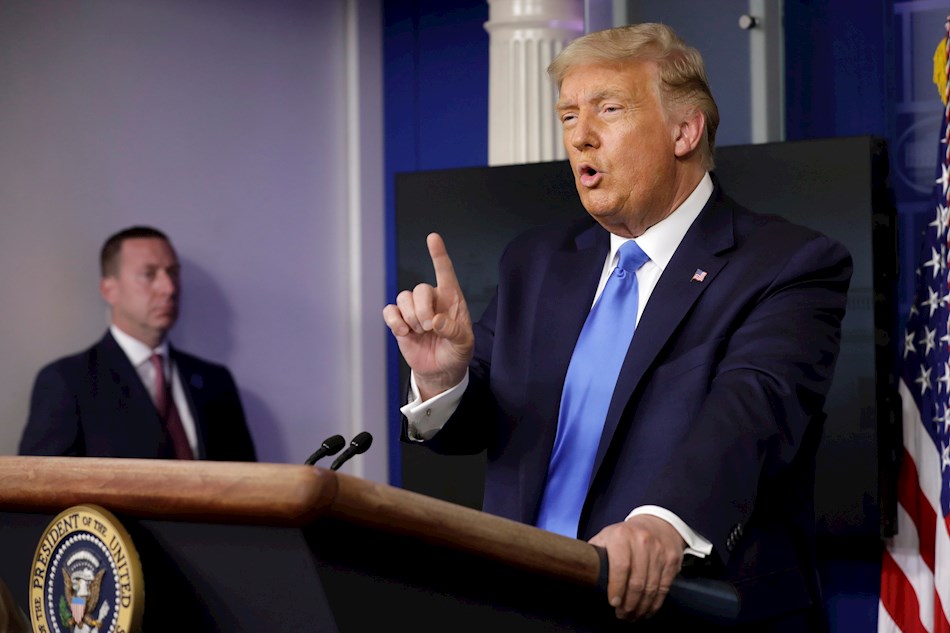 Trump dice que la victoria de Biden proyectada por medios de comunicación se debió a que no se permitieron observadores en el proceso (EFE)
El presidente estadounidense, Donald Trump, dijo por primera vez que el demócrata Joe Biden «ganó» las elecciones presidenciales del 3 de noviembre. No obstante, el mandatario prosiguió e indicó que fue así «porque la elección fue amañada».
Esta declaración fue la primera de una serie de aseveraciones que Trump hizo por Twitter. Más tarde aclaró que Biden «solo ganó a los ojos de los medios con noticias falsas» y enfatizó a sus seguidores que «no concedo nada. Tenemos un largo camino por recorrer«.
En su opinión, la victoria de Biden que proyectan los medios de comunicación se debió a que no se permitieron observadores en el proceso y otras irregularidades que ya ha mencionado anteriormente.
Estas denuncias hechas por las redes desencadenaron una serie de demandas en varios estados clave, con el objetivo de hacer un revisión de votos en estos territorios.
He won because the Election was Rigged. NO VOTE WATCHERS OR OBSERVERS allowed, vote tabulated by a Radical Left privately owned company, Dominion, with a bad reputation & bum equipment that couldn't even qualify for Texas (which I won by a lot!), the Fake & Silent Media, & more! https://t.co/Exb3C1mAPg

— Donald J. Trump (@realDonaldTrump) November 15, 2020
Trump también aprovechó la oportunidad para cargar contra Dominion Voting Systems, que es una de las empresas privadas cuyos softwares estuvieron gestionando el conteo de votos en 23 estados y 307 condados de Estados Unidos.
Al respecto, el mandatario agregó que el «voto fue tabulado por una empresa privada de la izquierda radical: Dominion, con mala reputación y equipo de mala calidad que ni siquiera podía calificar para Texas (¡que gané por mucho!)».
He only won in the eyes of the FAKE NEWS MEDIA. I concede NOTHING! We have a long way to go. This was a RIGGED ELECTION!

— Donald J. Trump (@realDonaldTrump) November 15, 2020
La batalla de Trump después del 3-N
Desde la noche posterior a las elecciones, la campaña de Trump se ha desplegado en los estados en disputa y presentó una serie de demandas ante los tribunales. Posteriormente, Trump argumentó que si solo se contaran los votos «legales», él ganaría.
No obstante, Washington Examiner esgrime el siguiente planteamiento: «Si bien el tweet del presidente alega que a los observadores de votos no se les permitió observar el conteo de las boletas, a los observadores electorales de ambos partidos políticos se les permitió ver el proceso en los estados de todo el país».
El episodio más reciente sobre la cruzada legal de Trump se enfoca en un demanda que presentó su campaña en Pensilvania. El equipo legal alegó que a los observadores de votos no se les permitió estar lo suficientemente cerca para observar adecuadamente el proceso.
Trump y Dominion Voting Systems
Trump también ha dicho de manera reiterada que Dominion Voting Systems cambió los votos para beneficiar a Biden. Esta empresa luego respondió los cuestionamientos del mandatario estadounidense.
«Dominion Voting Systems niega categóricamente cualquier afirmación sobre cualquier cambio de voto o supuestos problemas de software con nuestros sistemas de votación», dijo la compañía.
La compañía canadiense concluyó que «los sistemas Dominion continúan contando las boletas de manera confiable y precisa, y las autoridades electorales estatales y locales han confirmado públicamente la integridad del proceso».
Sin embargo, Dominion ha sido señalada de tener varias fallas en sus gestiones. De hecho, el periodista Lou Dobbs mostró la semana pasada un reporte de 2019 emitido por la secretaría de Estado en Texas que aludía una serie de irregularidades con la denominada «Dominion's democracy suite 5.5A machine».
Se trata de uno de los modelos usados en estos comicios, por ejemplo, en Pensilvania.
Entre los problemas de la maquina de votación destacaba en el informe «la incapacidad de verificar y retener una boleta del partido, mientras no se votara».
«El escáner y el tabulador estaban sujetos a atascos de papel y para eliminar esos atascos, se tuvieron que romper los sellos protectores. Esto permitió a los trabajadores electorales engañar las elecciones de los votantes», reflejaba el reporte relatado por Dobbs.
Finalmente, la secretaría de Estado de Texas negó el uso de este sistema de votación, luego de dar su apreciación sobre el tema. Los demás estados hicieron caso omiso de este reporte.
This post was originally posted on PanAm Post – View Original Article
Please follow and like us: